Prepared for the Unexpected
Durabook is a leading manufacturer of rugged computing solutions, including the Durabook line of laptops, mobile tablets and all-in one computers. The DURABOOK brand is designed, manufactured and tested in-house to assure maximum quality and reliability. These
purpose-built, cost-effective and ruggedized laptops, tablets, and all-in-one PCs are high-performance solutions that increase productivity, drive a clear return on investment and deliver a low total cost of ownership.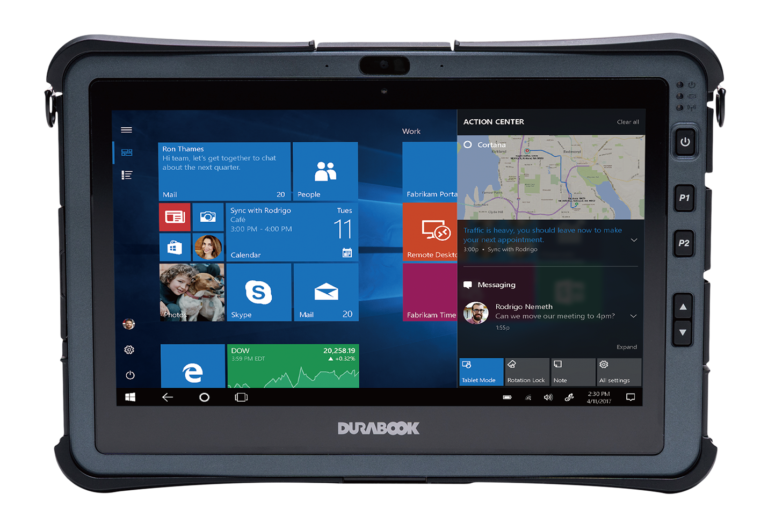 Choosing between mutually exclusive I/O interfaces and devices is a thing of the past. The Durabook U11 rugged tablet has it all. Within its extremely compact and rugged exterior, the U11 packs an unprecedented number of productivity features and generous space for further expansion.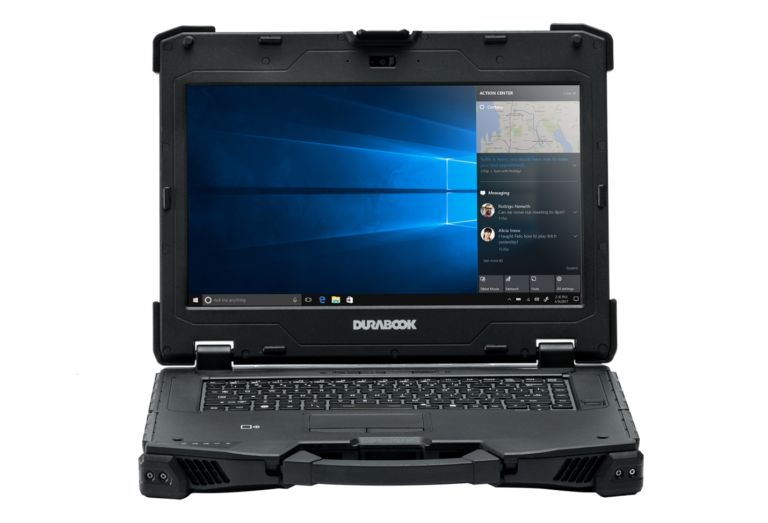 Combined with the latest 8th Generation Intel® Core™ processor and graphics capabilities, the Z14I rugged laptop can handle data intensive tasks at speed. It has been built to withstand even the harshest of environments. Its IP65 rating, protecting against dust and water ingress, MIL-STD 810H certification and resistance up to six feet drop make the Z14I more rugged than other comparable devices on the market. The device has also been tested for explosive atmosphere, solar radiation, salt fog, and fungus resistance, which goes beyond testing standards compared to other rugged devices in its class.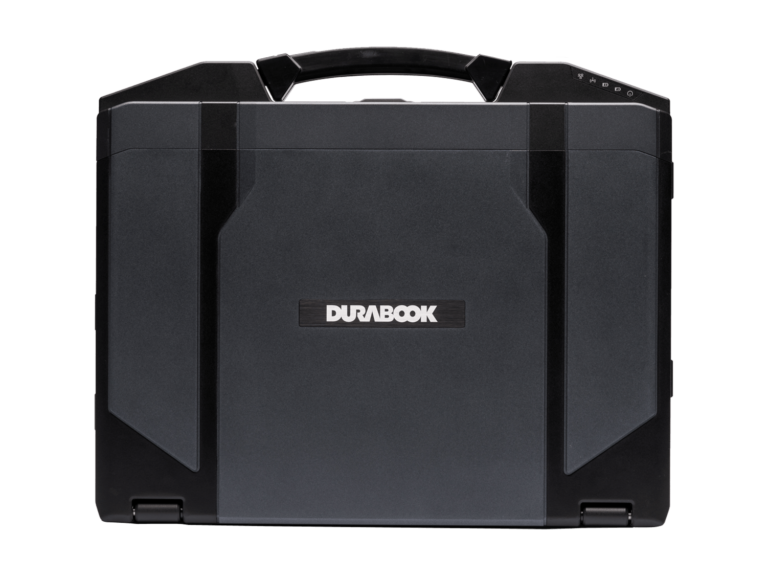 The all-new Durabook S14I features the latest 11th Generation Intel® CPUs and class-leading 4' drop spec/IP53 rating, pushing semi-rugged devices to a whole new level. The S14I is engineered to combine military-grade durability, field-worker functionality, computing performance, and long battery life for non-stop use, making it suitable for use in locations where rain or dust may be a regular occurrence. For workers in today's challenging and versatile working environments, the S14I rugged laptop is truly in a class of its own.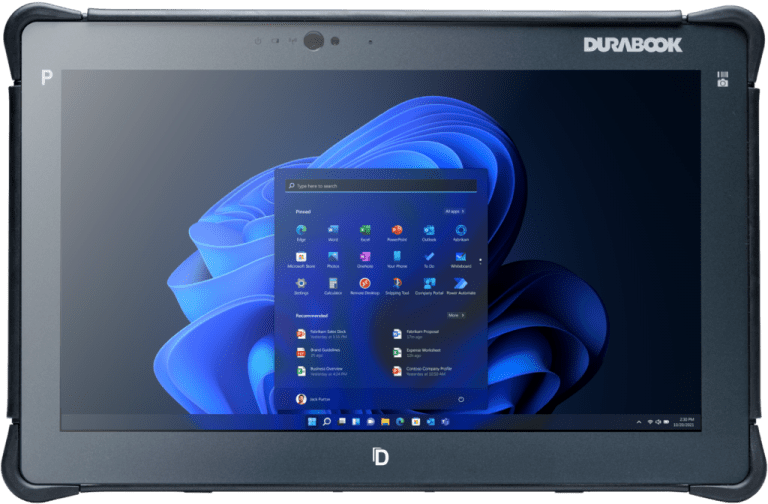 R8 is the world's only fanless 8" fully rugged tablet with 12th Gen Intel® Core™ processors, offering a unique combination of outstanding performance and ultimate portability for the modern mobile worker.
The R8's fanless design offers boundless customization capability and is purpose-built to manage the heaviest workloads while meeting the demands of the harshest environments, including oil and gas, and mining.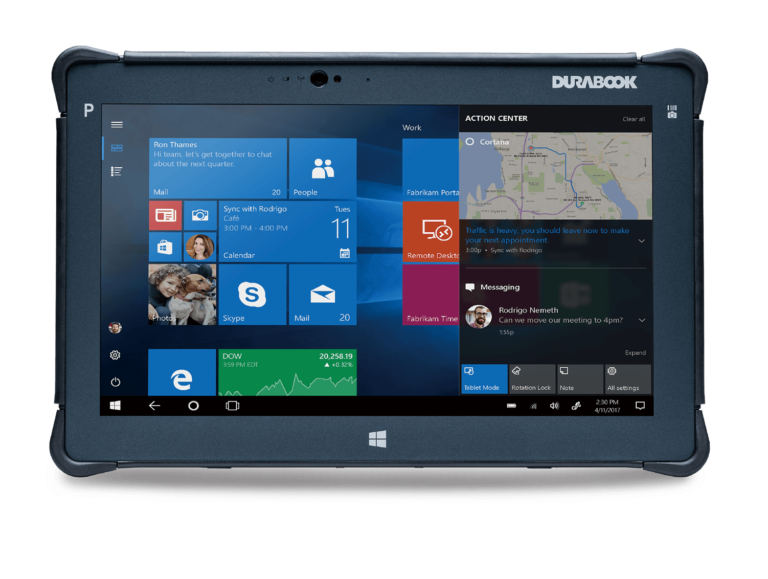 Every inch and detail of the Durabook R11 rugged tablet is designed to maximize the efficiency of professional field workers. The Durabook R11 is only 0.79″ in height and weighs just 2.65 lbs, making it the world's most compact tablet in the fully-rugged class. Adding to its appeal is a smooth, streamlined exterior that complements its tough image.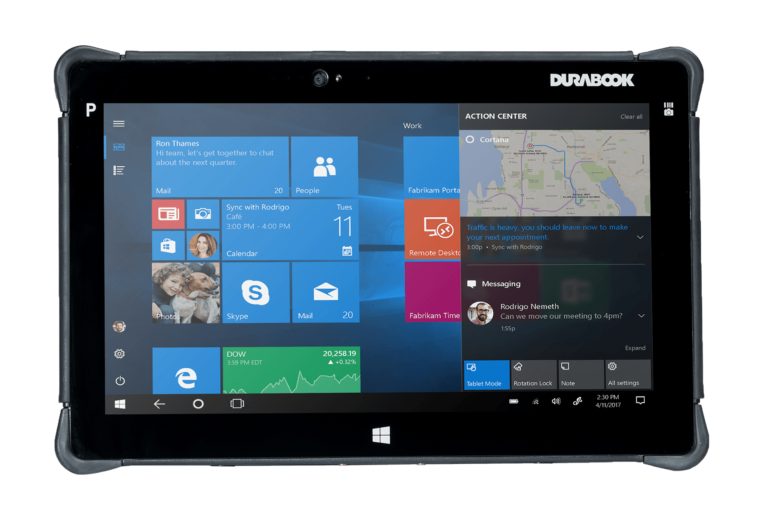 The Durabook R11L rugged tablet is built to meet the needs of workers in professions ranging from retail and hospitality to warehousing, logistics and field service. This tablet features a brilliant 11.6" capacitive touchscreen and high-performance, energy-smart Intel® processor for efficient use on the move. The R11L also offers an optional barcode reader, optional RFID reader, back camera, and optional smart card reader for seamless data-capture in a slim, light and durable device.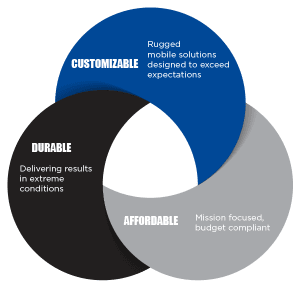 Where the, durable, affordable, and customizable converge.
At Durabook, delivering mission-specialized technology solutions is our top priority. Whether you're an end-user or channel partner, we collaborate with you, incorporating your feedback to bring innovative solutions to market. Superior rugged products and value are just a few reasons our clients choose Durabook.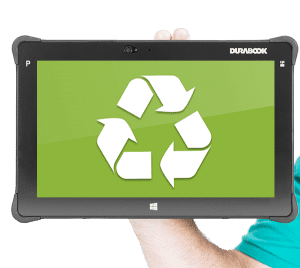 Conserving Our Environment
Durabook Americas supports efforts for a clean environment. In pursuit of bettering our planet, Durabook Americas Inc. has established the computer recycling program for all Durabook customers in the North Americas, which would like to recycle all Durabook computers. Furthermore, Durabook will recycle your computing devices in accordance to the current E-waste processing approved methods following SERI (Sustainable Electronics Recycling International) guidelines.
Need more information on Durabook ruggedized solution?