Let us introduce ourselves...
While the name n+1 technologies may be new, we can assure you, our team has a long-standing history of being leaders in the IT industry… What started over a decade ago with the founding of ID Global Procurement has evolved over time to meet the ever-changing needs of the federal and commercial markets. ID Global Procurement was created to address very specific requirements of the commercial industry.  We soon came to recognize that many of those practices could be applied to the federal marketplace, providing an incubator for innovation and ingenuity. The result was the transformation of IDGP to n+1 technologies. The new face of global IT.
We provide
.
solutions to meet your needs.
Relationships built on trust and integrity.
n+1 technologies is a National Minority Supplier Development Council (NMSDC) certified small business and our goal is simple, to enable our clients to conceptualize and exceed their vision. Or more simply put, to work smarter, not harder. With our years of experience as a foundation, n+1 develops innovative IT solutions to solve the most challenging requirements of our clients. We have assembled a team of experts who are results-obsessed, focused, highly engaged, and extremely experienced, ensuring that our solutions not only meet the needs of our customers but exceed them time and time again. n+1's diversified catalog of IT solutions utilizes technology expertise and past successes while capitalizing on our team's innovative approach to solution design. We believe that delivering cutting-edge solutions through cost-effective platforms allows us to provide our clients with all-encompassing end-to-end solutions so that they are able to reduce costs and maximize their ROI. Still reading? Drop us a note to see how we can help!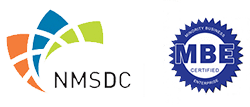 A NMSDC Certified Business
Sales:
sales@nplus1technologies.com

Customer Service:
hello@nplus1technologies.com
22375 Broderick Drive
Suite 150
Dulles, VA 20166
6414 McKinley Ave
Los Angeles, CA 90001